Guitars and Cars in Mt. Dora, FL
Sunday, September 14, 2014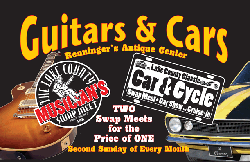 Guitars and Cars

Swapmeets held on the second Sunday of every month.

Opens at 8 am, rain or shine.




---
---
Lake County Musician's Swap Meet
Central Florida's Premier Event for Musicians and Music Lovers.

The monthly Lake County Musician's Swap Meet brings together dealers, collectors, musicians and the general public for an afternoon of fun with a little business on the side where everyone can buy, sell or trade musical instruments and equipment and play a little music.


Are you a music lover, but not a musician? Come on in and listen to the music being played, try the delicious food, or just enjoy the fabulous outdoor setting. Bring your favorite folding chair or sit on one of the many picnic tables located right by the Jam Stage.

Our event takes place, rain or shine, from 8 am until 5 pm on the second Sunday of each month. The Musician's Swap Meet is held under the big covered pavilion at Renninger's Antiques Center on Rt. 441 in Mount Dora.

Admission for the general public is just $2 from 8 am until 4 pm. No admission charge after 4pm.

Admission is free for any children under 14 years old. Children must be accompanied by an adult at all times.

You may carry in one item (such as a guitar, amplifier, microphone, saxophone, etc.) to sell or trade. If you have additional items that you wish to sell or trade, you will be charged an additional $2 for each item carried in. If you have multiple items, please consider getting a dealer's booth or one of our tailgating spaces (see below).

There is ample free parking for the general public, plus a reserved disabled parking area close to the gate. There is are two ATMs close by. Some of our dealers now take credit and debit card sales.

The Musician's Jam is from noon until 5 pm. A pa system, mics, amps, and drums are provided. Bring your instrument and join in. Join our jam hosts, play by yourself, with other musicians, or your band.We are open to any kind of music (must be family friendly).

Our food vendors offer a full breakfast and lunch menu. Cold canned beer is available after noon for the adults, for just $2.25 a can (Bud or Bud Light). Beer is also available by the bucket (five cans for just $10).

DEALER and TAILGATING spaces

Dealer booths are $20 and are approx. 10' x 15' and include two antique market style wooden tables. Additional tables are available for $5 each. Your dealer booth fee includes two adult passes and one parking space (inside the gate) per booth. Dealers may set up any time after 7:30 am. Dealers have a parking area close to the pavilion.

Tailgating spaces (where you sell out of the back of your car) are available for just $10. Tailgating spaces do not have access to power. We suggest that you bring your own pop-up tent in order to keep both you and your items out of the Florida weather.
Event Contact Info
Musician's Swap Meet

For more information go to www.LCMSM.com. If you have any questions, or you wish to reserve a booth, please contact us at (352)-735-0025 or email: info@LCMSM.COM

* Phone hours are from 10 am until noon and 1 pm until 4 pm - except the day of the event.

On the day of the event, please call Renningers at (352)-383-8393 and they will get a message to us by radio.
Car Show
Monthly Antiques & Classic Car Event
8:00 AM to 2 PM
Browse Antique & Classic cars and chat with owners. Consider buying one in the car corral, where you will find vehicles for sale. Browse and inquire with the vendors for that elusive part you are looking or find something for the Man Cave to display.
Admission is Just $2 combined with the music Swap Meet. Admission also entitles you to join the car cruise if you have an antique, classic or tricked out car. We'd love to have you join us for the fun.
Showing fees:
Show cars: $6.00 Judged for Trophies or Cash Prizes
Trophy Classes
Best of Show: Pre 1970 and Post 1970
Best GM: Pre 1970 and Post 1970
Best Mopar: Pre 1970 and Post 1970
Best Ford: Pre 1970 and Post 1970
Best Truck – Best Paint – Best Import – Best interior – Most Unique – Best Non production – Top 25 – Peoples Choice Award.
Format changes every other month.
Nov.2014 Judged
Dec 2014 Cash Prizes
Scheduled:
2015 Judged Shows- Jan. - Mar. – May – July – Sept. – Nov.
2015 Cash Shows – Feb. – Apr. – June – Aug. – Oct. – Dec.
Show car cruise. No extra fee. $50.00 cash prize awarded to one of the cars.
Car Corral: $7.00 - Show your car for sale. Separate area from show cars.
Vendor Fees: $15.00 per space 18 x 25. Additional space $5
For information regarding the car portion of Guitars and Cars, or to reserve a space or participate in the event, please contact Ava at 352-455-0388 or Renninger's at 352-383-8393.
Location
Mount Dora, Florida