Written by Sheryl Possoff- Antiques Supply, Renningers Adamstown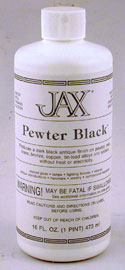 JAX Chemical Company has been manufacturing metal finishing and polishing solutions for over 40 years. JAX Chemicals are used in the lighting, furniture, decorative hardware and stained glass industries. Artisans and craftsmen rely on JAX for restorations, reproductions and current work. Jax is specified by architects and builders for interiors, exteriors and roofs.
Ephemera Equals Fun
Wow! Buying and selling ephemera is rewarding and enjoyable. Since I am a relative newcomer to this genre I cannot consider myself an expert but I learn something new everyday.
I started out in 2005 selling antiques at a store in the City of Lancaster. The overhead was so high that I finally realized that a permanent storefront was not viable. With this in mind, I decided to become mobile, i.e., selling at flea markets in the surrounding area. My first venue was Renninger's, in Adamstown, PA., using an outdoor space.